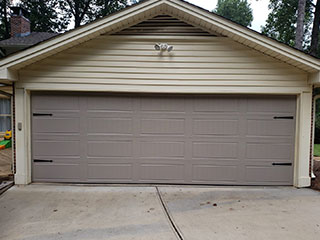 Seeing as a garage door can be a big investment, you should do everything you can to make sure it lasts for a long time and doesn't encounter easily preventable problems that end up costing you money. The maintenance service we offer will ensure that all of the mechanism's different parts are fully operational, and that any minor issue is addressed in a timely fashion so that it doesn't end up becoming a major malfunction.
The Importance Of Safety Tests
Your automatic door can add a lot of convenience to your life. However, it is still a machine, which means making sure it doesn't pose a risk to your safety is very important. Our team will check the position and condition of the opener's photo eye sensors, and realign them or replace them if we find that they're not working correctly. We'll also inspect the motor and the drive system, lubricate the moving metal parts and make sure the trolley is able to pull and push the door properly.
Spring Adjustment and Balance Tests
Garage door springs are the muscles of the mechanism. They support the weight of the panels and provide the counterbalance needed to move the door up and down. After examining them to make sure their coils aren't deformed, we'll test the balance of the door and adjust the springs accordingly to make sure they aren't straining and that the panels can open and close all the way.
Ensuring Smooth and Efficient Movement
Aside from lubricating the aforementioned units, we'll also apply the same treatment to the hinges and the steel rollers, as well as to any bearings that can benefit from it. This will help the panels move in a smother and quieter way. We'll also check the tracks for bending, repair any minor damage we find, and make sure they're properly aligned so that the door doesn't get stuck halfway open all of a sudden.
Just Call – We'll Do The Rest
If you truly want to get the most out of your door and make sure that it keeps functioning efficiently for as long as possible, our team can help you out. Contact Garage Door Repair Jordan today and let our experts make sure your automatic system is in the best shape possible.
Couldn't find what you're looking for? We also offer:

Part Replacement & Lubrication

New Opener Remote Controls

Extension Spring Adjustment

Noisy Doors Silenced