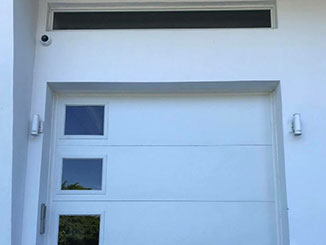 You may have heard stories about burglars breaking into houses via the overhead garage door. Just like all access points, this large moving section has to be effectively secured and unwanted use of it must be prevented. Apart from physically locking it, there are some other measures you could use to make sure your property stays safe and secure.
A Simple But Effective Way

Unless you have a garage door opener with rolling code technology, you should change your access code every week or so. If you turn this into a routine, it will not seem like a great hassle. The important point is to provide maximum protection to the garage and to the entire property, and taking a minute to do this will save you a great deal of time and headaches in the future.

Leave No Openings

You must see to it that you're not making things easier for intruders by leaving existing problems unresolved. Check to make sure that the travel and force limits of your opener are properly set and that the door closes all the way every time. Similarly, you should test the tension of your springs, as too much of it could lead to the door staying slightly open. Such issues are easy to spot, so do not to ignore them and make sure they are dealt with as soon as possible.

Additional Maintenance Checks

You need to regularly inspect the panels, windows (if you have those installed), and other parts of the door. If you notice problems which can make the system more vulnerable to burglars, We recommend taking immediate action. Decayed wood panels or damaged aluminum sections should be replaced quickly to keep them from being exploited against you.

Always Secure Your Remote

Do everything necessary to keep the opener remote secure at all times. Never leave it unattended, especially not in the car. It is best to always keep it with you on a keychain. Basically, treat it in the same way as the key to your house. Some modern opener models have a digital lock option, or a "vacation mode" feature, which will turn the remote useless until they are disengaged. If you're going away for an extended period of time, don't forget to engage them before leaving.

Consider Adding Extra Measures

If you feel that the basic measures for keeping your door secure are not sufficient, you should consider introducing some special ones. The installation of an advanced lock is a highly effective solution. Furthermore, also consider installing a wireless garage door keypad which requires a password to use. It also makes great sense to have one or more lights with motion detection sensors pointing at the overhead door.

Consider an Upgrade

Another option is acquiring a more advanced garage door opener with a range of modern security features, like the digital lock we mentioned earlier. These also include a technology which changes the access code automatically after each use and a feature for preventing signal interference. Unless there is a bedroom next to or above your garage, contemplate installing a louder opener, which you'll be able to easily hear in case of unauthorized entry.