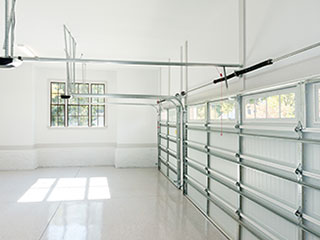 You probably use your opener without thinking at least twice a day. But there is more to this system than meets the eye. With a tap of a button, this simple device saves you the trouble of opening your door by hand, and prevents intruders from entering your property by locking up tight when you're asleep or away from home. It does all of this tirelessly and without much input from you. However, wear and tear can render your opener prone to sluggishness or even a total breakdown over time, especially if it is not regularly maintained by a professional.
Take Your Pick
Not all garage door systems are the same - different doors open in different ways, depending on the model and the type of opener mechanism it uses. The most important difference between the different varieties of opener is likely to be the drive systems. If you're looking for a silent, smooth opening and closing experience, a belt-drive system will most likely suit you best, but if you don't mind noise and are looking for a rugged, long-lasting opener that won't break the bank, a chain drive model may also be a good choice. Some of our most popular models are screw-drive systems, which tend to be reliable, easy to use and not too noisy. If you're not sure which type to go for, we can help you choose the right system for you.
Thinking Of An Upgrade?
Sure, you use your garage door almost every day to perform what seems to be a relatively simple task – but that doesn't mean automatically lifting and lowering your door on cue is the beginning and end of the features provided by modern day opener units. Many units come together with full Wi-Fi compatibility, so you can control access to your home from afar. Others feature a useful backup battery system, so you won't get left out in the cold – or stuck inside – if the power goes out. Plus, some Genie and LiftMaster models allow you to take your security up a notch, with the latest in rolling code technology - each time you use your door, the codes change, giving you total control of who can enter or exit through the garage door.
Repairing & Maintaining Your Unit
Your garage door opener should be easy to use, easy on the ear, and easy to forget about, provided it is installed correctly and looked after. A consistent maintenance schedule is highly recommended if you're to get the best out of your investment for years to come. This could include safety testing the system and electrics and ensuring the chain drive is lubricated if you're using this belt drive type.
Contact Us Today
Whether you're after a door that operates silently and smoothly, comes with maximum security options, or connects to the internet, speak to our experts at Garage Door Repair Jordan today to find an opener that suits your lifestyle.
Want more? Let us take care of:
Garage Door Tune Up Services
Genie Garage Door Openers
Torsion Spring Adjustment
Bottom Seal Rubber